Volkswagen Polo Service & Repair Manual: Fender Corrosion Repair Measures, in Wheel Housing Liner Contact Area

Note
The corrosion protection in the fender seam must be applied on all replacement parts, on which the attached seal is not already present.
The additional corrosion protection seal will prevent "chafe marks" in the fender wheel housing liner.
| | |
| --- | --- |
| – | Apply filler to the interior and exterior areas of the fender. |
| | |
| --- | --- |
| – | Once the filler has dried, apply and spread the Sealing Material -D 511 500 A2- in the wheel housing liner contact area (fender seam). |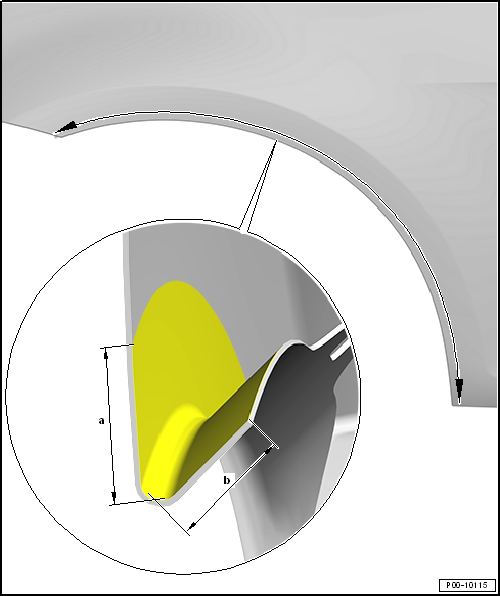 Note
The dimension -b- can vary, because the fender has different folded edge widths. Note that the entire folded edge is always sealed.
Before installing, the inner sides of the wheel housing and the fillet plate are to be sealed with cavity sealant.

Refer to → Chapter "Preservation".
Dry sand the cataphoretic primer on the roof adhesive surface -item 6- → Item down to the bare metal using P180 sandpaper. ...
Corrosion on the Fold Edges, for Instance on the Hood, Door or also the Rear Lid – Remove the corroded areas with → Ch ...
Other materials:
Warning and indicator lamps
First read and observe the introductory information and safety warnings Lit up Possible cause Solution Engine oil level is too low. Switch off the engine. Check the engine oil level . Fl ...
Fitting the removable ball coupling
Fig. 91 Overview: removable ball coupling First read and observe the introductory information and safety warnings The removable ball coupling is located under the luggage compartment floor with the vehicle toolkit. Key for : Cap Ball coupling Retaining balls Catch for locking ...
Tires, Dismounting
Remove the valve insert. Note If equipped handle the glued-on wheel trim carefully. Surface slightly scratched. Replace the damaged rim wheel trim. ...
© 2016-2019 Copyright www.vwpolo.net