Volkswagen Polo Owners Manual: Handbrake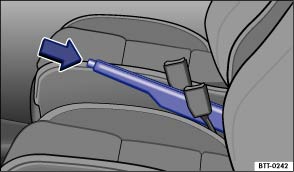 Fig. 115 Handbrake between the front seats

First read and observe the introductory information and safety warnings
Applying the handbrake
Lift the handbrake lever up fully.
The handbrake is applied when the indicator lamp lights up in the instrument cluster   .
Releasing the handbrake
Lift the handbrake lever up slightly and press the lock button in direction of arrow  .
Guide the handbrake lever down whilst the lock button is pressed.


WARNING
Incorrect use of the handbrake can cause accidents and serious injuries.
The handbrake should never be used to brake the vehicle, except in emergencies. The braking distance is considerably longer as only the rear wheels are braked. Always use the foot brake.
Never drive the vehicle with the handbrake lightly applied. This can overheat the brakes and adversely affect the brake system. It can also cause premature wear to the rear brake pads.
Never activate the accelerator from the engine compartment if a position or gear has been selected and the engine is running. The vehicle can start to move even if the handbrake is applied.


NOTICE
To avoid unintentional movement when parking the vehicle, first apply the handbrake firmly and then remove your foot from the brake pedal.

An acoustic warning is given if the car is driven faster than approximately 6 km/h (4 mph) with the handbrake applied.
© 2016-2023 Copyright www.vwpolo.net