Volkswagen Polo Owners Manual: Dimensions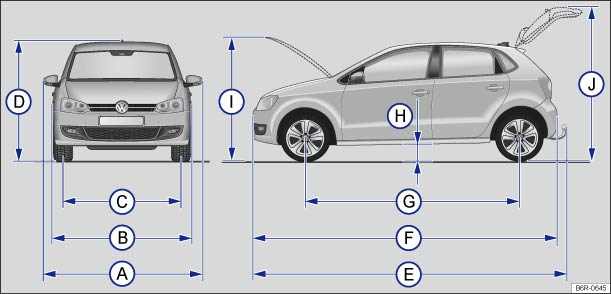 Fig. 17 Dimensions

First read and observe the introductory information and safety warnings
The data in the table apply to the most basic German model.
The specified values can vary due to different tyre and wheel sizes, if additional equipment is fitted, for different model versions, for retrofitted accessories, and for special vehicles. They can also vary in vehicles that have been manufactured for other countries.
Key for :
Polo
Polo
BlueMotion
Polo GTI
Polo Dune (Cross Golf)
Ⓐ
Width (from one exterior mirror to the other)
1,901 mm
Ⓑ
Width
1,682 mm
1,698 mm
Ⓒ
Front track
1,463 mm
1,457 mm
1,443 mm
1,454 mm
Rear track
1,456 mm
1,450 mm
1,437 mm
1,453 mm
Ⓓ
Height to the upper edge of the roof at kerb weight a)
1,462 mm
1,465 mm
1,452 mm
–
Height at kerb weighta) with navigation aerial
1,485 mm
1,488 mm
1,475 mm
1,505 mm
Height to the upper edge of the roof at kerb weight a)
–
–
–
1,488 mm
Ⓔ
Length with fitted towing bracket (when factory-fitted)
4,064 mm
4,070 mm
4,077 mm
Ⓕ
Length (from bumper to bumper)
3,970 mm
3,976 mm
3,987 mm
Ⓖ
Wheelbase
2,456 mm
2,455 mm
2,456 mm
2,459 mm
Ⓗ
Ground clearance in road-ready stateb) between the axles
153 mm
156 mm
133 mm
176 mm
Ⓘ
Height with open bonnet and kerb weight a)
1,753 mm
1,756 mm
1,744 mm
1,777 mm
Ⓙ
Height with open tailgate at kerb weighta)
2,000 mm
2,003 mm
1,990 mm
2,019 mm
Turning circle diameter
Approx. 10.6 m


NOTICE
Take care when driving in car parks with protruding kerbstones or bollards. Objects that protrude from the ground can damage the bumper and other components when parking the vehicle.
Drive carefully through dips in the road, over driveways, ramps, kerbstones and other objects. Low-lying vehicle components such as the bumper, spoiler and parts of the running gear, engine or exhaust system could be damaged.
a) Kerb weight without driver, without payload.
b) Kerb weight with driver (75 kg) and service fluids.
© 2016-2023 Copyright www.vwpolo.net