Volkswagen Polo Owners Manual: Changing a wheel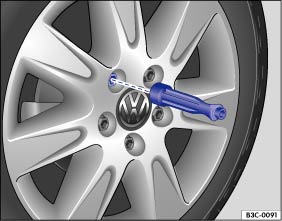 Fig. 170 Changing the wheel: removing the wheel bolts with the screwdriver handle

First read and observe the introductory information and safety warnings
Removing the wheel
Using the hexagonal socket in the screwdriver handle , unscrew the loosened wheel bolts, remove and place on a clean surface.
Fitting the spare wheel or temporary spare wheel
Note any specific tyre running direction .
Position the spare wheel / temporary spare wheel.
Screw in all the other wheel bolts in a clockwise direction and use the hexagonal socket in the screwdriver handle to tighten them gently.
Use the adapter for anti-theft wheel bolts where appropriate.
Lower the vehicle with the jack.
Use the box spanner to tighten all the wheel bolts securely in a clockwise direction . Do not tighten the bolts in clockwise or anticlockwise sequence. Tighten them in diagonal sequence.
Fit the centre cover caps or wheel covers .


WARNING
Incorrect torque or incorrect use of wheel bolts can lead to a loss of control of the vehicle, cause accidents and serious injuries.
Always keep all wheel bolts and threads in the wheel hubs clean and free from oil and grease. The wheel bolts must be easy to turn and be tightened to the specified torque.
The hexagonal socket in the screwdriver handle should only be used for turning wheel bolts, not use for loosening or tightening them.
© 2016-2023 Copyright www.vwpolo.net