Volkswagen Polo Owners Manual: Correct sitting position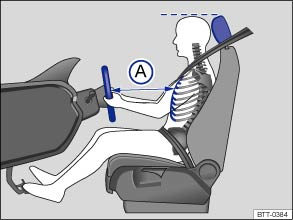 Fig. 35 There must be a distance Ⓐ of at least 25 cm between the driver and the steering wheel.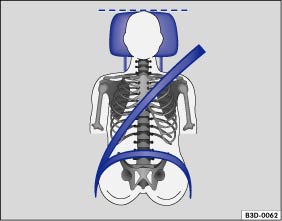 Fig. 36 Correct seat belt routing and head restraint adjustment

First read and observe the introductory information and safety warnings
The following details the correct sitting positions for the driver and passengers.
If any vehicle occupants cannot assume a correct sitting position due to their physical build, they should contact a qualified workshop to find out about possible special modifications. The seat belts and airbags can only provide a maximum level of protection if a correct sitting position is assumed. Volkswagen recommends using a Volkswagen dealership for this purpose.
Volkswagen recommends the following seating position for your own safety and to reduce the level of injury in the event of a sudden braking manoeuvre or an accident:
The following applies to all vehicle occupants:
Adjust the head restraint so that its upper edge is at the same height as the top of the head, but not lower than eye level. Position the back of your head as close to the head restraint as possible and .
When adjusting for short people, push the head restraint all the way down, even if the head is then underneath the top edge of the head restraint.
For taller people, push the head restraint up as far as it will go.
Move the backrest into an upright position so that your back rests fully against it.
Keep both feet in the footwell while the vehicle is in motion.
Adjust and fasten seat belts properly .
Additional points for the driver:
Adjust the steering wheel so that the distance between the steering wheel and your breastbone is at least 25 cm and the circumference of the steering wheel can be held at the sides with the arms slightly bent.
The steering wheel must always point towards the breastbone and not towards the face.
Adjust the driver seat so that you are able to press the pedals with your knees still slightly bent.
Adjust the height so that you can reach the highest point of the steering wheel.
Always leave both feet in the footwell, to help ensure you maintain control of the vehicle at all times.
Additional points for the front passenger:
Push the front passenger seat as far back as possible so that the airbag can provide maximum protection if it is triggered.
© 2016-2023 Copyright www.vwpolo.net