Volkswagen Polo Owners Manual: Curtain airbags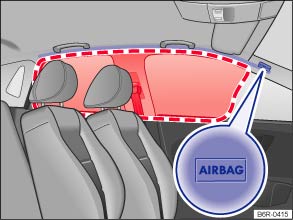 Fig. 61 On the left-hand side of the vehicle: location and deployment zone of the curtain airbag

First read and observe the introductory information and safety warnings
In the interior, a curtain airbag is fitted above the doors on both the driver and front passenger sides . The airbag location is identified by the text AIRBAG.
The area in the red frame is covered by the curtain airbag when triggered (deployment zone). For this reason, you must never leave or attach any items in this area.
In a side collision the curtain airbag is triggered on the impact side of the vehicle.
In a side collision, the curtain airbags reduce the risk of injury to the areas of the body facing the impact for vehicle occupants on the front seats and outer rear seats.


WARNING
Once triggered, the airbag inflates at high speed.
Always leave the deployment zones of the curtain airbags clear.
Never secure any items to the cover or in the deployment zone of the curtain airbag.
Vehicle occupants sitting on the front seats and rear outer seats must never carry any people, pets or objects in the deployment zone between themselves and the airbags. Ensure that children and passengers keep to this rule.
The built-in coat hooks should only be used for lightweight clothing. Do not leave any heavy or sharp objects in the pockets.
Do not fit any accessories to the doors.
Do not install any sunblinds onto the side windows unless they have been expressly approved for use in your vehicle.
Only push the sunblinds over to the side windows if no items are attached to them (e.g. pens or the remote control for a garage door).
© 2016-2023 Copyright www.vwpolo.net