Volkswagen Polo Owners Manual: Acoustic and optical ParkPilot signals at the rear of the vehicle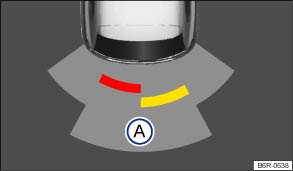 Fig. 121 ParkPilot screen display (colour)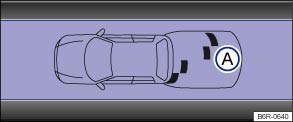 Fig. 122 ParkPilot screen display (monochrome)

First read and observe the introductory information and safety warnings
Key for displays
  and  
Meaning
Ⓐ
Scanned area behind the vehicle.
Yellow segment depicts an obstacle.
Red segment depicts an obstacle located close to the vehicle.
Black segment depicts an obstacle (monochrome display).
The area to the rear of the vehicle is scanned by the ultrasound sensors and is shown on the display of the factory-fitted radio or navigation system. The positions of potential obstacles are displayed relative to the vehicle  .
Acoustic signals and screen
Acoustic signals are given when the vehicle approaches an obstacle located to the rear. An intermittent signal tone is given if a sufficiently short distance between the vehicle and an obstacle is detected. The shorter the distance, the shorter the intervals. The signal tone will sound continuously if the obstacle is very close.
If you continue to drive the vehicle closer to the obstacle despite the continuous signal tone, the system will no longer be able to measure the distance.
With some vehicle equipment levels the scanned areas are displayed as several segments in a display   or  . The closer the vehicle drives towards an obstacle, the closer the segment will move to the vehicle in the display. The collision area has been reached when the penultimate segment is displayed, if not before. Do not drive on!
Area of the vehicle
Distance of the vehicle from an obstacle
Acoustic signal
Segment colour if an obstacle has been detected (colour display only)
Ⓐ
Rear centre
approx. 31 – 160 cm
Intermittent tone
Yellow
Rear side
approx. 31 – 60 cm
Obstacle close to the vehicle
approx. 0 – 30 cm
Constant tone
Red
The distance range for the constant tone is larger for vehicles with factory-fitted towing bracket.
When towing a trailer
A status display is shown in vehicles with a factory-fitted towing bracket and a trailer connected via the vehicle electrics. The distance behind the vehicle will then no longer be shown.
Muting the ParkPilot signal tones
The acoustic signals for the ParkPilot can be muted by touching the

function button on the screen (in colour display only). Touch the function button again to switch the acoustic signals back on.
The mute setting will be cancelled if the ParkPilot system is switched off and on again. Error warnings cannot be switched off.
If the ParkPilot display has been switched off manually and ParkPilot remains active, the mute setting is also cancelled.


WARNING
Do not allow the images shown on the screen to distract you from the traffic around you.

It can take a few seconds for the acoustic or optical signals to be given.
© 2016-2023 Copyright www.vwpolo.net